Tickets $85 per person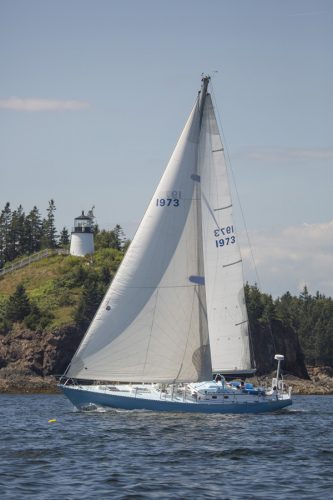 June 11th to June 30th
10:30am, 1:00pm, 3:30pm
July 1st to August 9th
10am, 12:30pm, 3pm, 5:15pm 
August 10th to September 15th
10am, 12:30pm, 3pm
June 11th to June 30th
6:00pm
July 1st to August 9th
7:15pm
August 10th to September 15th
5:15pm
September 16th to September 30th
10:30am, 1:00pm, 3:30pm
October 1st-17th
10:30am and 1:00pm
May 20 to June 15 
Anjacaa is available for private charter only. Please call for more information.
 Rates: 6 or less passengers $510 for two hours Call us for bookings 207-236-4687
 We provide blankets on-board, however an extra layer is always a good idea. As a general rule, it is usually cooler on the water than on land. You may also want a hat, sunglasses and sunscreen. Feel free to bring a lunch or snack and beverages (including beer and wine). 
 The boarding of Anjacaa will be at the Public Landing in Camden. The boat is located on the pier in front of Peter Ott's Restaurant. Please check in at our ticket booth 20-30 minutes before you departure time. 
 All cruises non-smoking.  
---
Find us at the Sloop Anjacaa and Schooner Surprise ticket booth at the Public Landing or call us.
207-236-4687 | sail@schoonersurprise.com
Please take a moment to review cancellation policy.